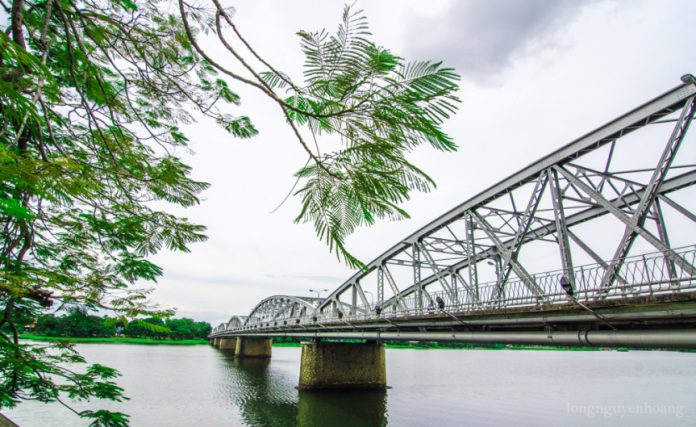 Huế has never failed to flutter anyone's hearts, no matter how many time they have been to this little yet graceful city. Huế's beauty is felt like a young charming lady with a huge sense of romance. If it is, then they are Trang Tien bridge and Huong river that naturally beautifies this lady without any makeup.
  Trang Tien spanning over Huong River- Photo Courtesy: Nguyen Hoang Long
People have wondered what it means by "Truong Tien" or "Trang Tien". In fact, this name came from the fact that at the time, the bridge was located near a coin casting enterprise of the Nguyen Dynasty.
Trang Tien Bridge straightly engraves into many's minds because of its architectural and historical values. Little do many people know that this is also a work by Gustavé Eiffel, known for Eiffel Tower in Paris, who followed an assignment by Levecque, the French Resident Superior in Central Vietnam, to build the bridge in 1897. Trang Tien is nowadays surfaced in reinforced concrete. Yet, completed in 1899, the bridge surface was wooden. It was not until 1906, two years after the historic storm that the wooden surface was replaced with the concrete one. Furthermore, bicycle and pedestrian paths were not extended until 1937, during the reign of Emperor Bao Dai. Trang Tien has been witnessing many ups and downs of the city and the country. In the wartime, it suffered two collapses in 1947 and 1968 respectively. Both were followed by renovation several years afterward.
It is quite strange for me that even though I have been wandering to and fro on this bridge for countless times, at different point of time, it renders different feelings. Trang Tien at daytime stays as it is: the vintage grace of the bridge integrates with the smooth flow of Huong river, bringing about a sense of peace. However, Trang Tien at night wears a totally new dress, busier and more colorful. All come from the modern lighting system installed along the bridge in 2002 and the nightlife around the two ends of the bridge itself.
                              Trang Tien at night – Photo Courtesy: Nguyen Hoang Long
At night, towards the Southern bank of Huong river on Trang Tien bridge is the walking street named Nguyen Dinh Chieu, where you can catch a rendezvous of many Vietnamese values. There are many traditional souvenirs sold along the street at an affordable price. Coffee shops and restaurants come in many styles. Now and then, there are usually some street music bands performing. Last but not least, street food, of course, is absolutely mouthwatering and definitely worth a try!
             Lotus restaurant located nearby the river bank and the bridge                                                               – Photo courtesy: Nguyen Hoang Long
All of these above features have contributed a perfect and unique beauty of the city. More than a walk around, visiting the place, you can sense something really "Hue".
by Let's Hue Team