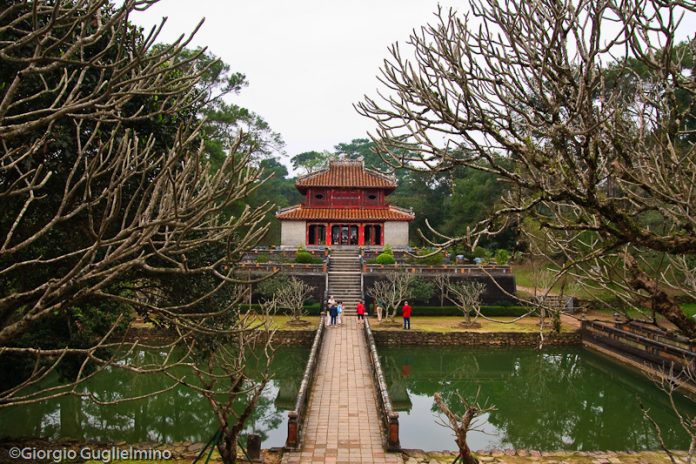 In September 1840, emperor Minh Mang commanded to begin construction of Minh Mang imperial tomb. The tomb, however, has not been finished. Painfully, while the tomb was implemented, the King was sick and passed away. Emperor Thieu Tri, his successor to the throne, continued the work and completed in 1843.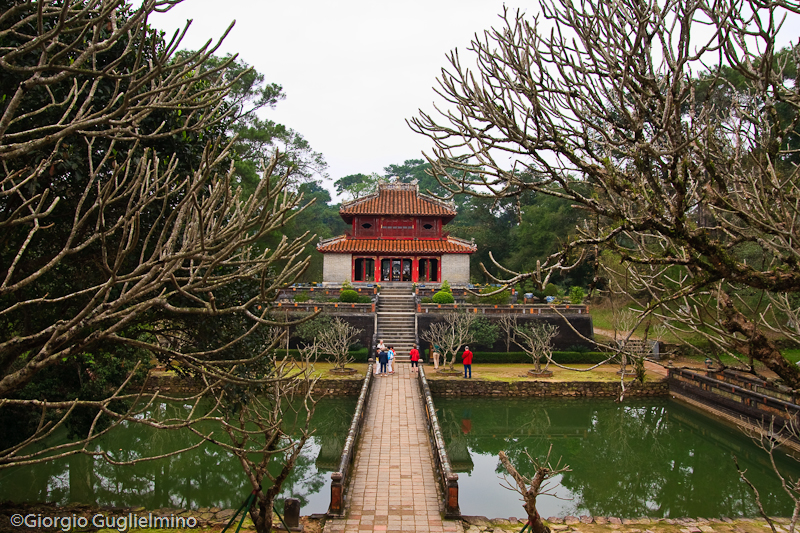 Located on Cam Khe mount, Huong Tra district, Minh Mang Tomb is from Hue about 10 km. It's a massive architectural complex consisting about 40 constructions such as palaces, pavilions, temples, etc. The construction is distributed into three main parallel axis of which Than Dao path is the center.
Dai Hong Mon is the main gate of the tomb. It has 3 paths and 24 heaving roofs with beautiful decoration. This gate is opened only one time to bring the King's corpse to the tomb and tightly closed since then. There are 2 other gates called Ta Hong Mon (Left Gate) and Huu Hong Mon (Right Gate) to enter the tomb.
Behind Dai Hong Mon is a big yard consisting statues of mandarins, elephants, and horses in the two sides. In the end of the yard is Bi pavilion. "Thanh Duc than cong" stele which describes the biography and merits of Minh Mang written by Thieu Tri is showed there. The salutation Court is divided into 4 steps. The Hien Duc Mon leads to the worship place. The Emperor and Queen Ta Thien Nhan have worshipped in Sung An temple. Another gate named Hoang Trach Mon leads to Minh Lau pavilion which is built on Tam Tai Mount. It is a square pavilion with 2 stories and 8 roofs. On both sides of Minh Lau Pavilion, there are 2 obelisks built on the hill. In the back of this pavilion are 2 flower gardens designed as the character "Tho" (Longevity).
Tan Nguyet (New Moon) Lake embraces the circular Buu Thanh (the wall surrounding the grave). There are 3 bridges on Tan Nguyet Lake. Visitors have to climb up to 333 stone steps to reach the sepulcher of Emperor.
All the constructions of Minh Mang tomb bring impressively moral values to visitors with unique architectural art and beautiful natural scenes.
Let's Hue Team