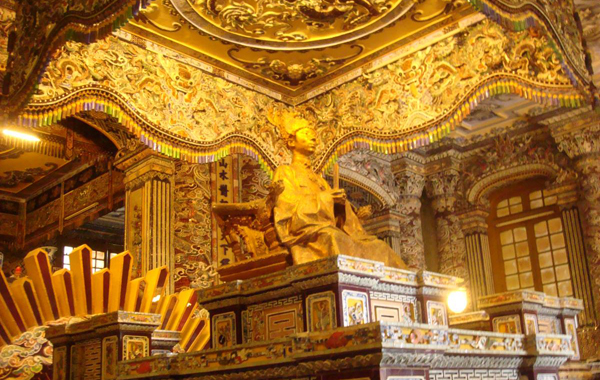 Built in 1920 and finished in 1931, Khai Dinh tomb is one of the most unique architectural features of the royal art in Hue city. It is the resting place of 12th Emperor of Nguyen Dynasty – Khai Dinh( 1885 – 1925). It has reflected the luxurious and flashy character of Khai Dinh.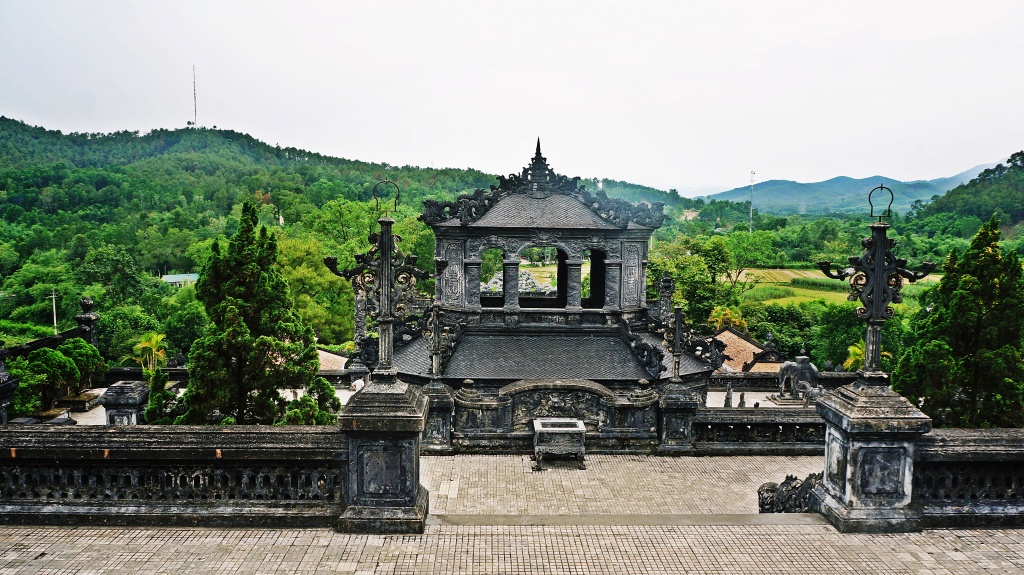 Khai Dinh Tomb is located in Thuy Bang commune, Huong Thuy district, Thua Thien Hue province. It's far from Hue city about 10 km. You can travel by bus, motorbike or by boat on Perfume river.
Of all tombs constructed during Nguyen dynasty, this is the smallest. Building this work, however, takes the longest time to finish. Initially, you will inevitably be dazzled by the overall work that is a rectangular block rising to 127 steps. It's a combination of Western and Oriental culture. This work has 5 main parts: Two sides are the mandarins, soldiers, and horse, the front is Khai Thanh palace which has altar and portrait of Khai Dinh, right in the middle is the royal parasol, the King's statue, and his grave, in the interior of the tomb is the ancestor tablets.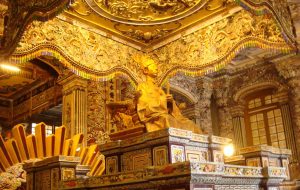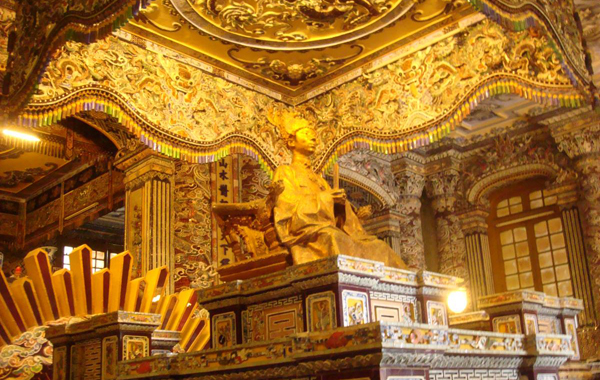 All of the inner decoration of Khai Thanh palace was made from glass and terracotta. They are royal pictures, tea trays, crown, etc and many modern items such as alarm clocks, tennis rackets, kerosene which are shown here. Skillful workers shaped those materials into lively and bright artworks. It is the amazing skill of the craftsmen that molded the royal parasol above the copper statue so curvy that most of the visitors think it was made from silk, while in fact, they were a stunning work from concrete. All of these masterpieces were created by Phan Van Tanh who is also the author of the three biggest frescoes named "Nine dragons hidden in the cloud" of Vietnam. According to the experts, Khai Dinh tomb was the highlight of royal architecture this times.
Although Khai Dinh was criticized for his wasteful lifestyle, in terms of art and culture, he truly made a significant contribution to the imperial architecture system of Vietnam. Khai Dinh tomb is a valuable work which needs preserving for its precious historical and cultural values.
by Let's Hue Team